Introduction
Every entrepreneur knows that an idea, no matter how revolutionary, is only as good as its execution. In Switzerland's rapidly growing cleantech sector, the competition is fierce, and the stakes are high. To stand out, you need more than just a great idea; you need a partner who can translate that idea into a tangible, market-ready solution. Welcome to B-works, where your cleantech aspirations meet our digital expertise. Dive in to discover how we've been the catalyst for numerous ventures, and how we can be the driving force behind yours.
The Current State of Cleantech in Switzerland
Switzerland, a nation celebrated for its picturesque landscapes, precision engineering, and world-class chocolates, is now emerging as a global powerhouse in the cleantech sector. But what's fueling this surge? The nation's commitment to sustainability, combined with its innovative spirit, is creating a fertile ground for cleantech ventures to flourish.
Imagine the majestic Swiss Alps, traditionally known for their snow-capped peaks. Now, envision them dotted with wind turbines, solar panels, and innovative startups working tirelessly to redefine our energy future. That's the transformative momentum we're witnessing in the heart of Europe.
The Swiss government's proactive policies, coupled with significant investments in research and development, have made the country a magnet for cleantech entrepreneurs from around the world. Universities and research institutions are collaborating with startups, driving groundbreaking innovations in renewable energy, waste management, water conservation, and e-mobility.
Moreover, the Swiss public's growing awareness and demand for sustainable solutions are further propelling the industry. From households opting for solar energy to businesses investing in green infrastructure, the entire nation is rallying behind the cleantech movement. As we delve deeper into this article, you'll discover how Switzerland's cleantech landscape is not just evolving but setting global benchmarks.
Digital Transformation: A Necessity in Cleantech
In today's fast-paced world, digital transformation is reshaping industries, and cleantech is no exception. But why is this shift so crucial? Think of it this way: just as a Swiss watch relies on intricate gears and precise mechanisms to keep accurate time, the cleantech sector needs advanced digital tools to optimize its operations and drive innovation.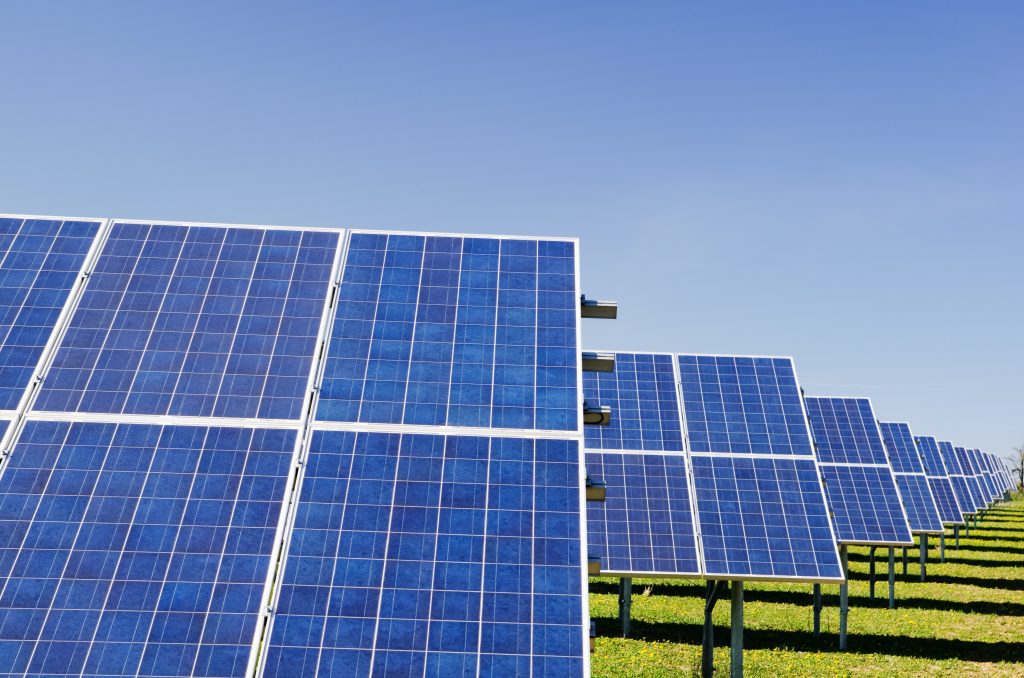 Digital transformation in cleantech isn't just about integrating the latest technologies; it's about harnessing the power of data, analytics, and automation to make more informed decisions. Imagine being able to predict energy consumption patterns, optimize renewable energy sources based on real-time weather data, or even streamline waste management using smart sensors. These aren't futuristic fantasies; they're current realities made possible through digital advancements.
Moreover, as the lines between the physical and digital worlds blur, the opportunities for cleantech solutions expand exponentially. Virtual power plants, smart grids, and AI-driven energy management systems are just the tip of the iceberg. These digital solutions not only enhance efficiency but also open doors to new business models and revenue streams.
Remember trying to assemble a complex puzzle? Without the right pieces, the picture remains incomplete. Similarly, without embracing digital transformation, the cleantech sector risks missing out on its full potential. As we navigate the challenges of climate change and sustainability, merging the power of cleantech with digital solutions is not just an advantage; it's an imperative.
B-works at a Glance: Who We Are and What We Do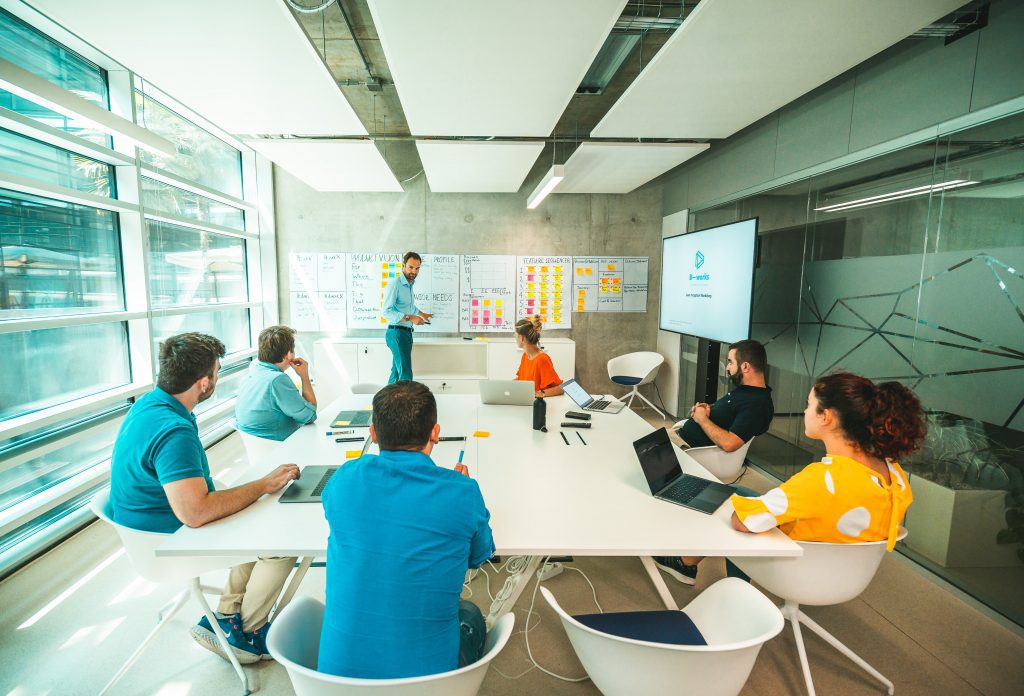 So who exactly is B-works? And how can we catalyze your cleantech success? B-works is a Swiss-based venture builder focused on commercializing and scaling sustainable digital solutions. With our lean startup approach, we rapidly validate, build and grow disruptive cleantech ventures.
Our diverse team of entrepreneurs, designers, engineers and sustainability experts thrives on transforming ideas into real-world solutions. We mix the best of both worlds – cleantech domain expertise plus digital product know-how.
Unlike isolated consultancies or accelerators, we're with you every step of the way – from ideation to first client deployments. We align on your vision and then provide the operational fuel and digital horsepower to make that vision a reality.
How do we make sure that your venture is a success?
Our Success Formula: Merging Tech and Cleantech
So what makes B-works so effective at building successful cleantech ventures? Our secret sauce comes from fusing deep cleantech expertise with agile digital product development.
We start by truly understanding your aspirations and the changing cleantech landscape. Our team has experience across areas like renewable energy, e-mobility, decarbonization, and more. We keep our finger on the pulse of cleantech innovation and market trends.
Then we rapidly prototype, test and refine digital solutions using an iterative approach. This allows us to cost-effectively deliver products that align with market needs.
We utilize design thinking, lean startup, lean ux and principles like minimum viable products (MVPs) to gather real-world feedback early and often. Our agile engineering culture enables us to rapidly incorporate insights into the next product iteration.
We also draw on frameworks like the Business Model Canvas to pressure-test business viability. This ensures we build not just great products, but great companies. Our human-centered design approach keeps the user experience top of mind.
By converging cleantech and digital expertise under one roof, we overcome the pitfalls that derail many startups. Our structured approach leads to cleantech solutions that are both sustainable AND economically scalable.
The results speak for themselves. Take a look at the ventures we've already brought to life through our tech-meets-cleantech formula.
Ventures That Made a Mark with B-works
B-works has kickstarted lots of promising ventures and products over the past 5 years. But don't just take our word for it.
One example that showcases our expertise in bridging cleantech and digital is Aelsa – a web application we built to enable more sustainable farming practices.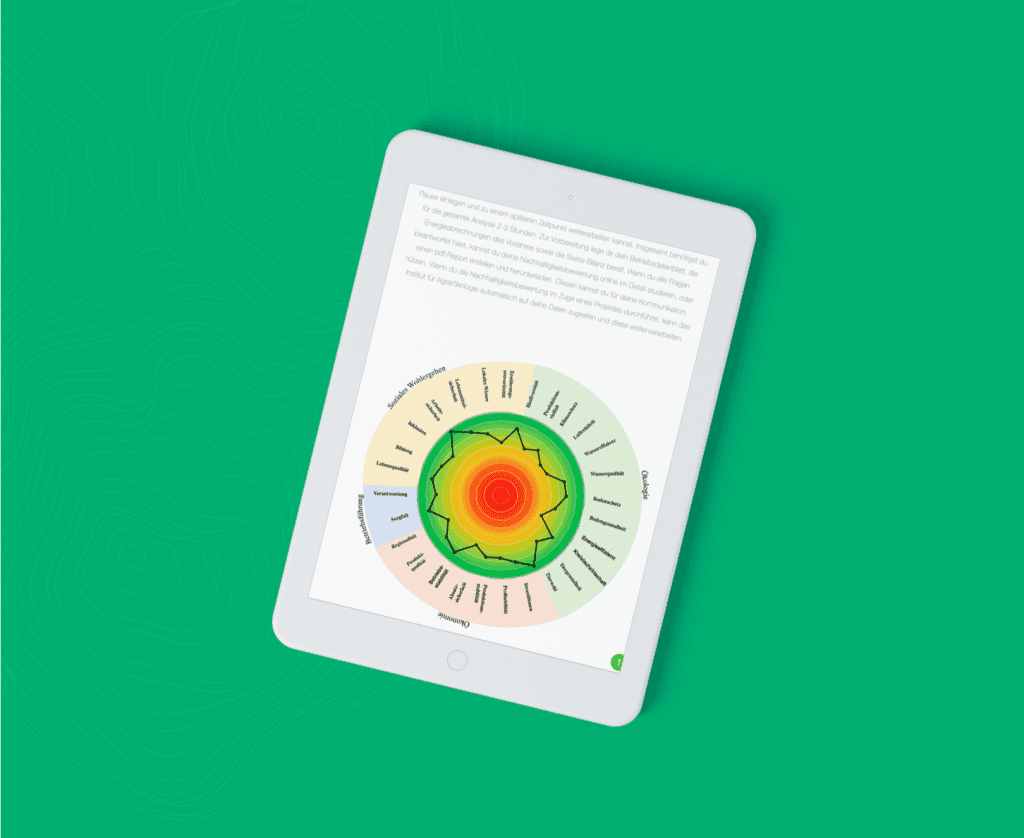 Our client, agroecology.science, wanted to empower farmers to measure and reduce their environmental impact. But their complex Excel-based assessment tool was time-consuming to administer manually.
By collaborating closely with the client, our team turned this spreadsheet into an intuitive, scalable web app. The backend ingested the Excel logic so farmers could self-assess their sustainability anytime.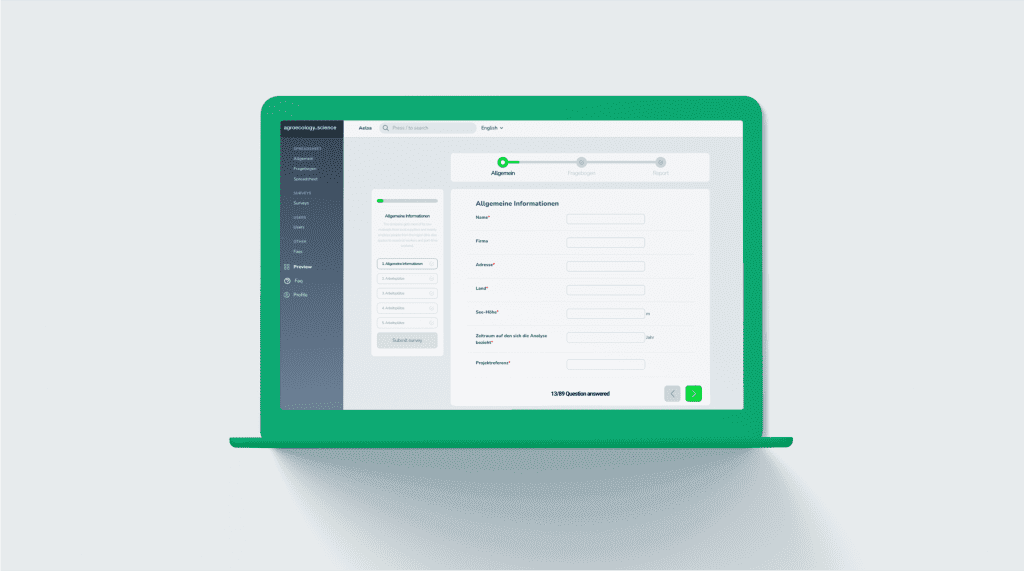 We also created an administrator portal to easily update the assessment as needed without coding. And integrated user registration and reporting.
The result? Aelsa provides a simplified experience for farmers and administrators alike. It allows agroecology.science to scale their impact assessment across Switzerland.
For a national project with a short timeline, Aelsa showcased our ability to:
Rapidly validate needs through discovery workshops and user journey mapping
Transform complex logic from Excel to web while maintaining flexibility
Combine custom software with out-of-the-box tools
Deliver quickly within budget and on schedule via agile sprints
Bridge cleantech and digital to create an accessible, scalable sustainability solution
The Aelsa case study proves we can apply technology to turn ideas into thriving cleantech ventures. In creating such ventures we follow a clear strategy that we're going to elaborate on in the next paragraph.
The Pillars of Our Cleantech Strategy
What guiding principles underpin our work in catalyzing cleantech innovation? Three key pillars:
Sustainability First – The solutions we build put environmental impact first. If it's not significantly moving the needle on issues like emissions, resource intensity, or biodiversity, we don't pursue it. No greenwashing here – sustainability is our North Star.
Digital Acceleration – We strategically apply digital advances to drive step-change efficiency, scalability, and accessibility. This includes technologies like IoT, blockchain, AI, cloud computing, and more. But we don't use tech for tech's sake – it must accelerate sustainability.
Bold Thinking – We challenge assumptions and foster creative thinking to go beyond incremental change. Our venture building solutions often combine or disrupt existing offerings. The status quo stops here. We're not afraid to be bold and buck the trends.
Beyond these pillars, our approach is also based on:
Local Expertise – Our Swiss base means we understand Europe's sustainability landscape and regulations. We navigate local intricacies you may not.
Customer Centricity – We listen closely to users' needs and design human-centric solutions, not just clever technologies. Adoption and engagement drive impact.
Lean Methods – We leverage iterative development and rapid testing, using approaches like lean UX, to fail fast and course correct. This agility is key for new ventures.
Adhering to these core pillars ensures our portfolio ventures make a measurable dent in critical environmental and climate metrics while building thriving businesses. If you share these values, we're aligned.
Overcoming Cleantech Roadblocks: The B-works Way
Cleantech may be hot, but that doesn't mean it's easy. Regulations, funding, technology – launching and scaling a startup here comes with hurdles. But we didn't become one of Switzerland's top venture builder by shying away from challenges. Here are a few ways we overcome common cleantech roadblocks:
Regulatory Expertise – Our team has enabled dozens of ventures to successfully navigate Switzerland's complex system of laws, subsidies, and compliance standards. We smooth the bureaucracy so you can focus on execution.
Access to Capital – Through our established network of VCs, banks, and public funders, we open doors to the capital required to scale your solution. Fundraising takes persistence, and we've got it.
Technology Leverage – Our engineers and developers know how to apply bleeding-edge technology to drive disruption. We help avoid the overuse of buzzwords and instead build practical solutions leveraging data, IoT, AI and more.
Market Validation – Using iterative prototypes, A/B tests, and customer discovery sprints, we validate product-market fit to de-risk go-to-market. Our human-centered design approach leads to real-world adoption.
Stuck trying to overcome common pitfalls? We've been there – and can guide you to the other side.
Innovations on the Horizon: Cleantech's Exciting Future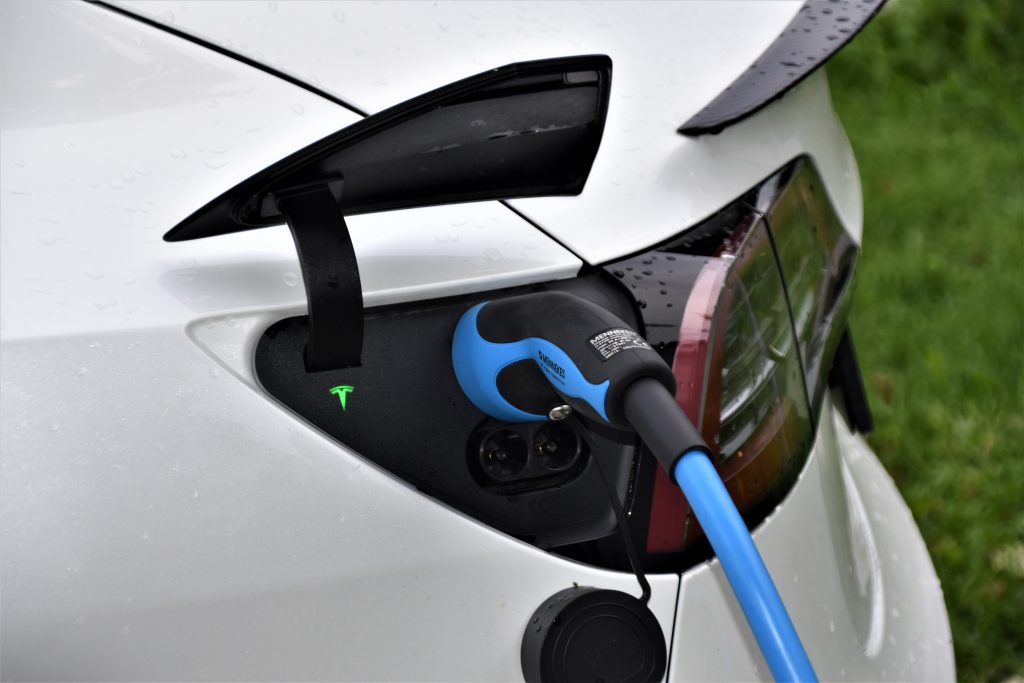 At B-works, our core focus areas are e-mobility, renewable energy, and decarbonization. We find the emerging innovations in these industries particularly exciting:
E-Mobility
Autonomous vehicles to enable more efficient ridesharing and public transport
Next-gen batteries like solid state lithium for increased range and faster charging
V2G bi-directional charging for EVs to stabilize grids
Renewable Energy
Floating solar PV installed on reservoirs to utilize space and water cooling
AI optimizing hybrid renewable microgrids for resiliency
Agrivoltaics co-locating solar and agriculture to maximize land use
Decarbonization
Direct air capture rapidly scaling to remove CO2 from the atmosphere
Clean hydrogen production from renewables expanding beyond pilots
Carbon mineralization reacting CO2 with metal oxides for safe, permanent sequestration
And cross-cutting all sectors:
Blockchain enabling decentralized carbon accounting and trading
Improved materials like green steel and cement lowering production emissions
Circular business models reducing resource waste and leakage
We stay on top of emerging breakthroughs to inform our solution development. The future looks bright for cleantech – let's realize it together!
Our Pledge to Cleantech Entrepreneurs
Cleantech entrepreneurs are dreamers – so are we. You imagine how the world could be, and we make those visions real.
Our pledge is to turn your aspirations into meaningful ventures that move the needle on our planet's health. Using digital, we'll scale your solution beyond what you thought possible.
We'll be straight-shooters, aligning on your most important priorities first. You won't get platitudes or vagueness from us. We'll be brutally honest about what works, and what doesn't.
We're in this together. Your success means our shared vision inches closer to reality. So let's get building – the future needs that solution only you can provide. The time is now.
Starting Your B-works Journey: Steps to Partnership
Ready to accelerate your cleantech venture idea but not sure where to start? Here are the simple next steps to continue your innovation journey with B-works:
1. Reach Out – Send us a message or schedule a discovery call. Share a bit about your background, idea, and goals. Let's open the conversation.
2. Explore Fit – Together we'll dive deeper into your concept and explore if there's a fit with our expertise.
3. Prototype & Validate – If we both see potential, we'll rapidly build prototypes to test assumptions and viability.
4. Refine the Partnership – With evidence your idea has legs, we'll continue collaborating to build your MVP and prove the business case.
5. Scale & Grow – Off to the races! We'll leverage our StartupOS framework to drive growth and commercialize at speed.
Don't just dream – partner with B-works to build an impactful and profitable cleantech venture. Get in touch today to jumpstart your future. The time for action is now!
Drop us a message to kickstart the conversation