Introduction
More than ever, our world needs intrepid solutions to the persistent challenges impacting our day-to-day lives. Yet building a company or developing a new product remains exceedingly difficult: the process is riddled with pitfalls from start to finish, particularly for first-time founders. It already borders on cliché that 90% of startups fail, so what is going wrong, and what would change these bleak odds? Clearly, there is an urgent need for organizations and entrepreneurs to embrace new ways of thinking about innovation and opportunity.
Enter venture building. Venture building companies leverage market opportunities and solve unsolved problems with Agility baked into their framework. Venture builders help corporations and entrepreneurs navigate the uncertainty and unknowns of building a new company or product by offering comprehensive industry experience (market knowledge, connections, operational expertise, and a skilled team of experts) and capital commitment. In effect, the venture building framework marries company building and venture funding, working with ambitious entrepreneurs and companies to minimize risk and maximize the potential for successful product implementation.
Below, we list the core activities of a venture builder:
Identify strong business ideas and business models
Build cross-functional Scrum teams
Raise capital or offer sweat equity
Help govern or manage ventures
Provide shared resources
Successful venture builders bring Lean Startup, design thinking, Agile principles of process management, and innovation accounting to the venture building process. Unlike venture capital firms, for instance, venture builders are highly involved in the daily operational management of a venture and engage in all activities necessary for the successful product or company launch, be it by developing software, validating and improving business models, and continually testing minimum viable products. Through this Agile process, venture builders can develop and launch new products in the market both quickly and efficiently, thereby shortening time-to-market ahead of their competitors. Below is a graphic of B-works' process and approach to the venture building process: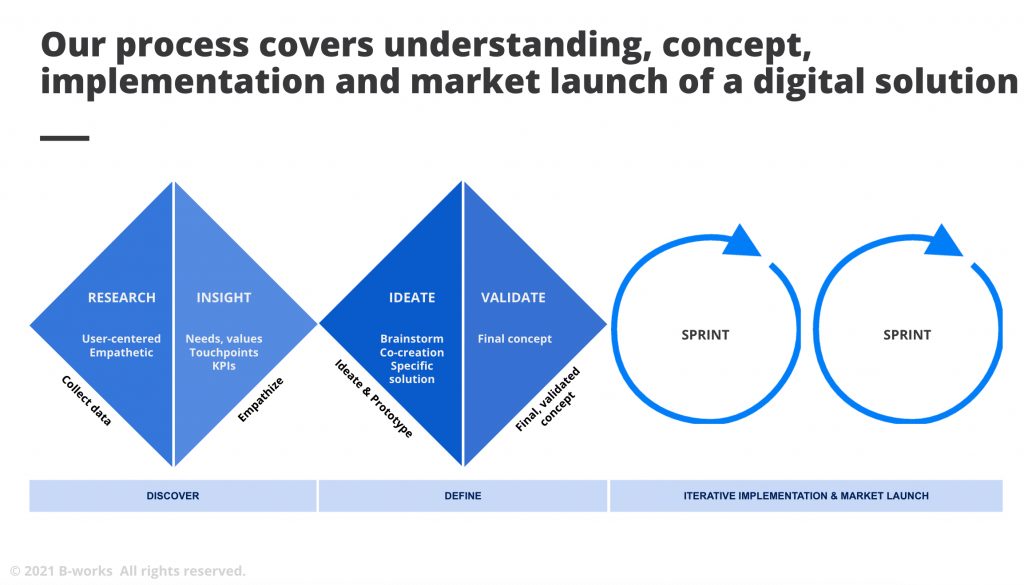 The Venture Building Ecosystem
Venture building is now a global movement in both the tech and startup industries. Noteworthy U.S. venture builders include Obvious Corp, which produced the billion-dollar enterprises Twitter and Medium; Mark Levin's Hard Valuable Fun (HVF), which brought us Affirm.com and Glow.com; StarterSquad in the Netherlands; SpringLab in South Africa; and, of course, B-works in Germany and Switzerland. Though each of these global venture builders differs in their business model, they each share the most critical element of successful venture building: they utilize shared resources like capital, teams, and connections, in order to launch fully operational companies and products.
It is arguably the "uberification" of society, coupled with the rise of on-demand services and the novel sharing nature of the global economy, that created the venture building ecosystem as we know it today.
The hallmark of a venture building company is the existence of a robust sharing network capable of consolidating vast available resources. Integral to venture builders, then, is the quality and dynamics of their network, for it is the Agile combination of resources that produces the most explosive results that capture market share ahead of the competition.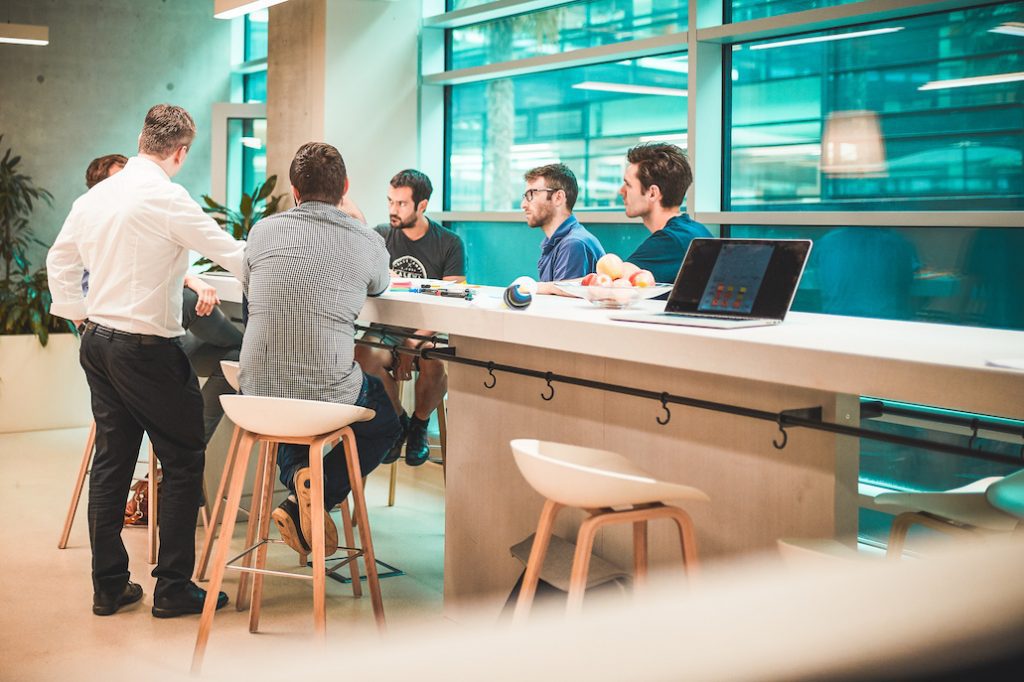 Readers might have noted that the venture building universe has many parallels with the startup ecosystem. A venture builder is indeed similar to a fast-paced tech startup, but in this case the product is the venture, the prototype is the business model, and the shipping code equates to excellent, timely, and within-budget execution.
In contrast with the standard startup business model, venture building is a network-focused model that is, by that very fact, perfectly positioned to respond to the fast-changing needs of both consumers and corporate clients. As such, they are uniquely competitive and are able to respond to client needs faster than any other venture enterprise. It is this combining of resources that allows venture builders to cultivate dynamic ecosystems that produce groundbreaking solutions, products, and ventures.
As we noted earlier, the venture building model may appear similar to that of the venture capital firm. Both fund ventures and look for successful exits. A venture builder, however, is far more involved in the day-to-day operations of its ventures than a traditional venture capital firm. A venture builder is able to capitalize on its expansive network of connections to stamp out the competition and scale very quickly. This business strategy is similar to that of Uber's operational technique, which underscores that venture builders do not simply funnel money into ventures and wait for growth to happen – above all, they are brilliant entrepreneurs and sharp business developers. This aggressive business management technique ultimately benefits all of the ventures in a venture builder's network.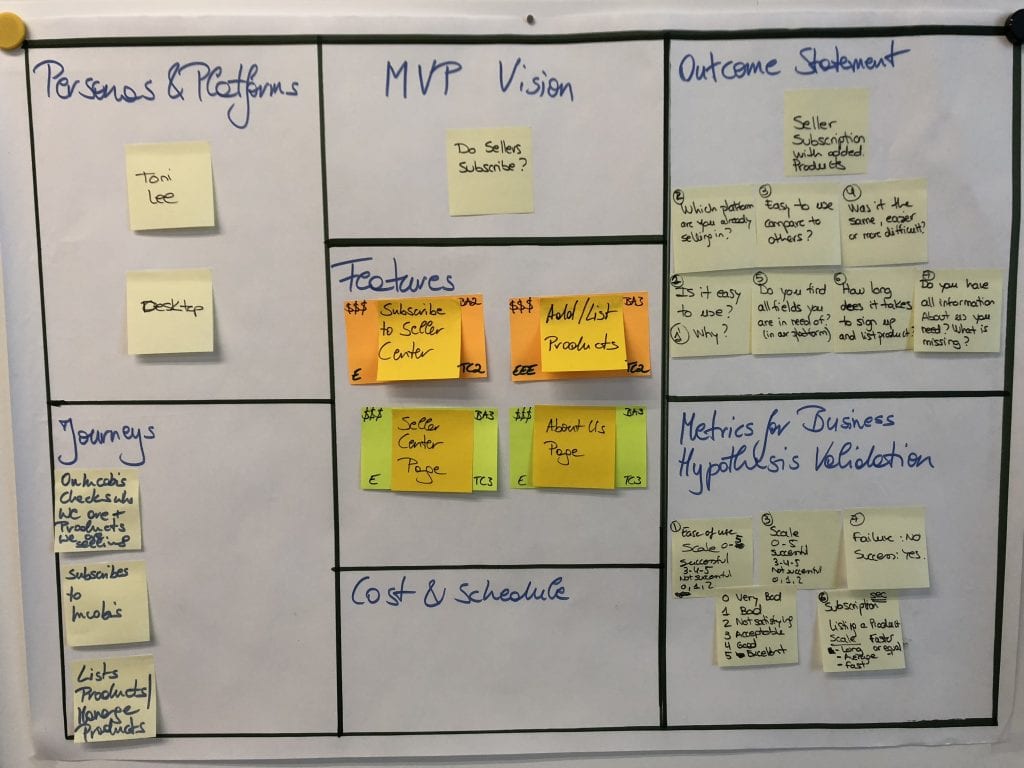 Common Use Cases of Venture Building at B-works
B-works is a venture builder and digital product development company that focuses on finding product-market-fit. We are a full-service, one-stop shop for a turnkey product for both individuals and corporations. Our vision is to improve people's lives through solutions that are not only innovative, but also cheaper, faster, and more sustainable. Our business model offers innovation as a service to founders, investors, CEOs, CMOs, and other executives.
Why and to whom is our venture building relevant? Below we delve into 3 common use cases:
A funded startup requiring specific digital competence and talent to accelerate product implementation. A startup may have just closed a venture round and has to launch its product or product improvement quickly and ahead of its competition. Speed is key and hiring is a time-consuming process. Instead of waiting to hire all relevant talent, the startup accelerates this process by hiring a venture builder to take over dedicated milestones in product development. This may include discovery and research, ideation and developing a concept (UX and design), as well as implementation (software engineering). See the
A corporation seeking to validate a business idea in the market with limited risk and (reputational) exposure. The corporation therefore collaborates with a venture builder who sharpens the business case, brings together needed talent, implements the product and launches it on the market. The corporation provides capital, the venture builder takes over the process of market validation and of building the core of the business. If success KPIs are met, the venture may grow as its own entity and the venture builder steps out after a hand-over, or the corporation may decide to incorporate the venture into its main brand.
A corporation looking to leverage their existing know-how and technology in the market but does not have a concrete strategy. The venture builder supports the corporation by creating a Blue Ocean Strategy, looking at creating a new market without competition and to which the company's product or service can add value.
B-works starts with the why behind a venture, and, with that as the point of departure, develops a comprehensive business plan all the way up to product implementation. The goal is to measure and validate before pivoting or moving to the next step in a venture. From assessing the market for the most suitable product (product-market-fit) to the implementation and validation on-site, we take care of the entire value chain of a digital product.
Our Process
1. Discovery
Duration: 1-2 weeks
In this phase, we work closely with our clients to understand their business goals, issues and challenges. We gather all the necessary information to develop a customized plan that meets the client's unique needs and goals.
2. Strategy
Duration: 2-4 weeks
Based on the information gathered in the Discovery phase, we develop a comprehensive Blue Ocean strategy that outlines the steps necessary to achieve our client's goals. We work with our clients to develop a roadmap that includes timelines, budgets, and key milestones.
3. Ideation
Duration: 1-2 weeks
In this phase, we work with our clients to develop ideas for new businesses or products. We consider market research, customer feedback, and industry trends to develop ideas that have a high chance of success.
4. Validation
Duration: 2-4 weeks
Once we have identified potential ideas, we validate them through market research and customer feedback. This ensures that the ideas we pursue are a good fit for the product and the market and have a high probability of success.
5. Execution and Development
Duration: 2+ months
In this phase, we develop the project or product, including creating a Minimum Viable Product (MVP) and running tests with customers. We use agile development methodologies to ensure we are constantly iterating and improving.
6. Launch
Duration: 2-4 weeks
Once the business or product is ready, we help our clients successfully launch it, including developing a marketing strategy and implementing a go-to-market plan.
7. Product Market Fit Iterations
Duration: ongoing
Once the MVP is launched, we iterate in a data-driven manner to refine the product and achieve product-market fit.
8. Scale
Duration: 2+ months
As our clients' businesses grow and evolve, we continue to work with them to scale their operations. We help them improve their products or services, optimize their processes, and prepare for future growth.
9. Offboarding
Duration: 1-2 months
We help round out the company's core team, assist with hiring and interviewing, and ensure a smooth transition as the company becomes self-sustaining and B-works exits.
The B-works Difference
B-works stands out in the world of venture building by putting accountability center stage. From the pre- to post-production launch, we remain accountable, open, and transparent with our clients. We invest and put "skin" in the game: for selected ventures, we participate via sweat-for-equity. As such, our venture builder in Zurich and Berlin is involved as an investor in both capital and risk. B-works engages with partners and customers as equals, as we believe that a relationship as partners is the cornerstone of a successful project.
For every project, we assemble a bespoke team of strategy consultants, product managers, UX designers, and software developers with industry and startup experience. We work with Scrum and Mob Programming, in which multiple team members work on the same project, at the same time, in a way that maximizes communication, decision-making, and knowledge creation.
Contact us
At B-works, we connect investors, CEOs, founders, academics, and experts in diverse industries and across multiple networks. We are at home in Zurich and Berlin's startup & corporate ecosystems and pride ourselves on our international network of trusted connections. In doing so, we bring together capital, talent, and ambitious founders and companies.
Contact us today for more details on partnering with us, and claim your free 30 minute expert review.
Contact us about your ideas and get started with your venture